Who we are
Fund for Equality is a partnership between Fund for the Public Interest and the Human Rights Campaign.
We know it's time that lesbian, gay, bisexual, transgender and queer people are embraced as full members of society at home, at work and in every community. So does the Human Rights Campaign (or what most people call HRC).
The good news is that we've made historic progress for LGBTQ people—from passing legislation against hate crimes to protecting marriage equality—but the LGBTQ community still isn't protected. In 28 states across the country, it's still legal to fire someone for being gay or transgender.
With progress comes inevitable backlash—and in our current political climate, opponents of reform have become bolder and stronger. They aren't just standing in the way of meaningful progress—they're looking to roll back many of the important victories we've fought so hard to win.
Overcoming the forces of reaction and opponents of progress means not only getting people on our side, but getting thousands—sometimes tens of thousands—of people involved, putting their voice and hard-earned money behind the Human Rights Campaign.
In other words, if we want to see real change happen, it will take people power.
Think about when change has happened—whether it was to move the ball forward or hold the line for equal rights. You may have seen public figures like President Obama, or a governor or the notorious Justice Ruth Bader Ginsburg in the headlines, like when the Defense of Marriage Act was repealed.
But the real story often takes place behind the scenes, when thousands or even millions of people are able to have their voices heard. Getting as many people as possible to back HRC, the country's most effective advocate for LGBTQ rights, builds that key base to make change happen.
That's people power. That's what it'll take to achieve equality for LGBTQ Americans, and that's what you deliver when you take a job with Fund for Equality, a project of Fund for the Public Interest.
Things to know when you apply
We believe that a clear vision, commonsense ideas, a fact-driven case for action and the power of bringing people together are the necessary ingredients to any successful effort to solve society's problems. We have a set of core values and a strategic approach to making positive change. Click here for things you should know about our organization when you apply.
Our team
Whether you're a canvass director or canvasser, you're an integral part of a group committed to building strong campaigns to win on the real challenges and problems we face.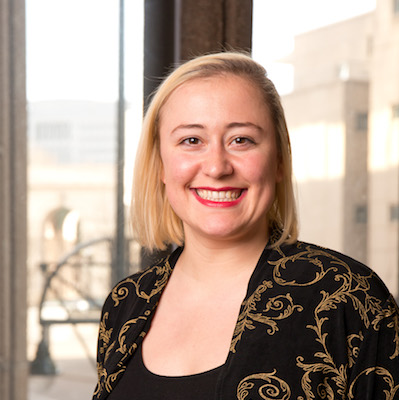 Photo: Kimball Nelson
Kyle Larson
Partners Director
Kyle started as the partners director with Fund for Equality in Washington, D.C., in 2019. After graduating from Ithaca College, Kyle got her start with the Fund for the Public Interest to help run canvass offices in 15 states. She later worked as the hiring director with The Public Interest Network to hire staff into jobs ranging from advocate to program director with Fair Share, Environment America, U.S. PIRG and more.